A daily stroll by the river is John's retirement dream
John Kimber raised his three daughters at Flinders Park where he lived only a couple of houses away from the river, so moving to Karidis Retirement Villages – Acacia on Holbrooks seemed like the right move.
"The decision to downsize and move from a home filled with memories, a neighbourhood you like and the facilities you are accustomed to is not easy but you need to take the plunge at some stage. Moving here allowed me to continue going to the same shops I was used to, the same doctor and most importantly, I am only a stroll away from the river. I am happy and well-settled." John said.
Even though John never had the patience to fish, he always enjoyed being near the river. "We were only a couple of houses away from the rivers and back in the 80s we would take family walks and walk the dog."
---
ABOUT JOHN – John calls himself a 'train nut'. When he was younger he wanted to join the local railways crew but his father was against it, as he would say the shift work was terrible.
John is a Technical Illustrator – "I applied for General Motors and had not heard form them. Applied for Simpsons (washing machine, stoves factory) and they needed an illustrator, so I took that job. A couple of weeks later GM called me and wanted to interview me for the job I originally applied for. I worked there until 1994 when I retired.
A technical illustrator designs and creates visual representations for the products and services offered by their employer. They work to render illustrations for use in technical publications and manuals. They often use advanced design computer programs to create illustrations.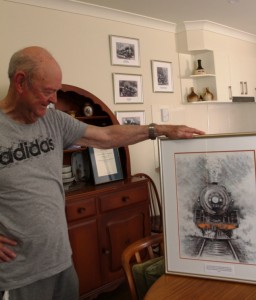 Download the Media Release here: Media Release Holbrooks John Kimber