In-home Services
Life is for Living
Leave the rest to us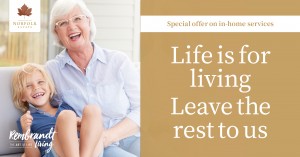 Join our Norfolk Estate Community today and live your life hassle free.
In-home services now available with our Norfolk Estate apartments – ready from the day you move in.
Here are some of the services provided by Rembrandt Living, Service Plan can be created to suits your individual budget and requirements.
General household cleaning
Personal care
Meal preparation & delivery service
Respite care
Gardening & home maintenance
Nursing and medication support
Call Ann on 0439 861 283 to find out more.
Download the in-home services brochure here
*T&Cs apply. Services provided through Rembrandt Living. Services provided at the cost of the resident. Government funded services available subject to individual assessment, needs and availability.