Costs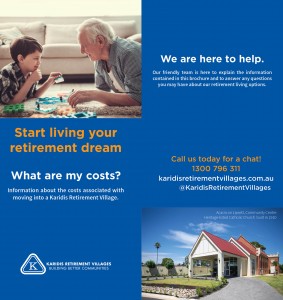 How much will it cost me on going, to live in the retirement village?

Once you have purchased your accommodation in your chosen village, there are also maintenance fees.

Our retirement villages are resident funded villages. This means that residents contribute to the costs associated with the day-to-day and ongoing management and maintenance of the village. This is an effective way of ensuring that facilities and services that would normally be out of reach of most people, are available.

As a resident, you will be required to pay a monthly maintenance fee, which covers the running costs of the village e.g. day-to-day village management and administration, general village maintenance, insurance, security costs and gardening.

Council rates and water rates are included in some villages' maintenance fees. In other villages, they are separate, and payable by the resident. Please call to check – we can lead you through the different villages maintenance fee structures.

The maintenance fee generally also includes a contribution to a fund that is used for major maintenance and repair of the retirement village's capital items, ensuring that there are always sufficient funds available to cover repair and maintenance works.

Personal services are available at selected villages, and the charges for services supplied are billed individually, on a user pays basis.